Choosing the right electrical enclosures for your specific application may seem overwhelming with so many design specifications, style configurations, and electrical box sizes. The task can be made much simpler if you focus on the following 4 considerations to selecting the right electrical enclosure to house power, process, or telecommunications wiring and components.
4 Electrical Enclosure Considerations
1. Consider the environment
Your goal in choosing the right electrical boxes should always start with choosing the right NEMA rated enclosure to fit your work environment. These ratings begin at NEMA 1 for general purpose, indoor-use electrical enclosures. Another common NEMA-rated enclosure is the NEMA 4X for indoor/outdoor use, which is constructed with sealed-gasket doors for protection from water infiltration.
If you need heavy-duty construction, the NEMA 12 electrical enclosures are common in industrial settings because they provide a higher degree of protection from rust and a variety of common hazards that are common within these environments.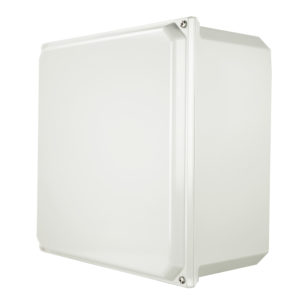 2. Choosing the right size
Avoid making the mistake of selecting an electrical enclosure that is too small to meet your future needs. While you may be size-limited by budget or location, an over-filled electrical box can contribute to heat rise from heat-generating devices which can negatively affect sensitive semiconductor components. Always size your electrical box to include future capacity for more components or terminals.
If wall-mounting space is limited, choose a free-standing electrical enclosure that can be located in a remote area and will you give enough room for current and future power and process components.
3. Electrical box material
Selecting the right material for your electrical enclosure can be the best way to stretch a tight budget. Polycarbonate electrical boxes are very durable while also being resistant to strong acids while maintaining its dimensional stability. Fiberglass electrical enclosures are quickly becoming preferred over metal enclosures because the material is highly resistant to moisture and chemicals in wet or corrosive environments.
Not only are polycarbonate electrical enclosures lightweight, and easy to install and modify on-site, they are also more cost-effective than stainless steel and other metal enclosures.
4. Thermal Management
To make sure that your electrical components have a free flow of air to reduce overheating within electrical cabinets, make sure the components have some space around them according to the manufacturer's instructions. This includes space between wire ducts and terminal devices (like terminal blocks) so electricians can better install, land, and tag all wired connections.
Choose an electrical enclosure supplier like Allied Moulded Products that also carry accessories for thermal management including fans, ventilators, and filter assemblies. Thermal management is closely tied to choosing the right manufacturer of electrical enclosures that offer flexibility in terms of depth, height, and width.
The best electrical boxes will consider future changes to production or power load. While it is difficult to know exactly how much extra space should be allocated for future capacity, the general rule-of-thumb is to allow 15% of your panel space to be reserved for future additions to electrical power, control, or instrumentation.
Sources
https://www.alliedmoulded.com/wp-content/uploads/polyline_catalog_2017.pdf
https://www.nema.org/Products/Documents/nema-enclosure-types.pdf
https://www.alliedmoulded.com/product-category/industrial-enclosures-accessories/enclosure-accessories/ventilators-and-filter-assemblies/